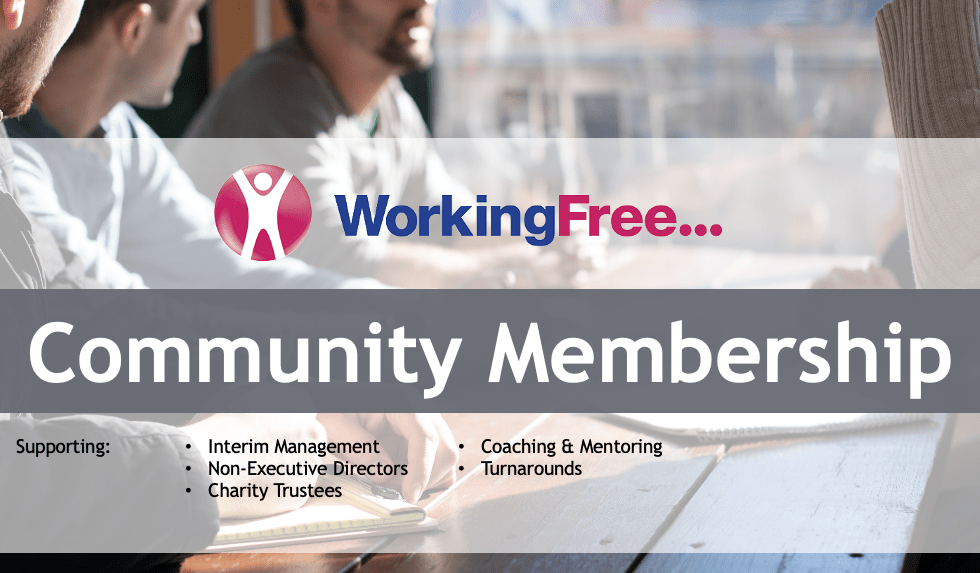 Become a

Working

Free

Community Member
Sign Up Here
WorkingFree Community Membership is aimed at people who are considering an Independent career in one or more of the following areas:
Interim Management
Coaching & Mentoring
Non Executive Director
Turnarounds
Charity Trustee
Many see as a vital component of the process of achieving and maintaining high levels of professional effectiveness as being part of a manageable, managed and interactive peer group which will stimulate and assess, sift and debate issues that are more easily handled in small groups of like-minded professionals. The value of getting to know others who also feel this way can be a very powerful driver of mutual benefit.
The core activities of a group will include regular Community Groups Meet-up Meetings covering the supported career options and agenda-driven matters, group discussions and collaboration.  Members will also be invited to join the LinkedIn Group – which facilities group communication and sharing of contact details. All are encouraged to actively engage with each other.
How much does it cost and how do you join………………
WorkingFree Community Membership costs £30 + VAT per month.
WorkingFree Community Membership benefits:-
Free access to WorkingFree Community Meet-Ups
Free access to WorkingFree Community LinkedIn Groups
60% Discount to WorkingFree Online Masterclass
60% Discount to WorkingFree Mastermind Groups
Upcoming Events – next 90 days
About Working Free

Working Free Ltd- www.WorkingFree.co.uk  – is a specialist career advisory business supporting senior Director-level executives coming off the permanent payroll into an independent working lifestyle. Working Free coaches them from dependency into independency – for their own future; for the enlightened reputation of their sponsoring organisations and – increasingly – for the benefit of the community. Working Free has a broad range of modular sessions all aimed at senior people looking to operate on an independent basis. We divide our services between Organisations and Individuals through our Pathfinder Programmes. 
About Devonshire House

Devonshire House was established in 1967 –  www.DevonshireHouseNetwork.co.uk  – and is a people-focused membership club for Director-level professionals in leadership roles who have an instinctive focus on the human side of Enterprise. Their aim is to create for their members thinking time and space for key business issues, and where people make the difference. Devonshire House runs about ten mainstream Events each year – a mix of formal dinners, buffets, , Panel Debates, Panel Discussions – and some other specialist one-offs.
At Devonshire House, the Events we promote always aim to reflect the best of current management thinking and – at our best – at issues that need a good airing – some serious exposure – and some animated debate! All of this collaboration gets us closer to some fascinating organisations and people………………… such as Working Free.
Tags:
Coaching Community