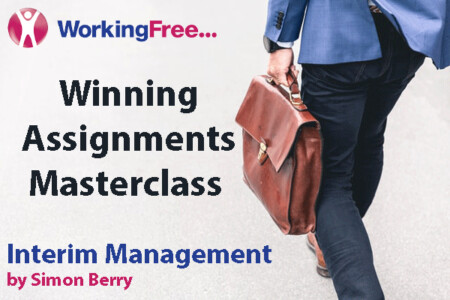 02 July 2020
12.00 pm – 2.15 pm
Working

Free

Online Masterclass – Winning Assignments in Interim Management by Simon Berry
Book Your Place
WINNING ASSIGNMENTS MASTERCLASS – INTERIM MANAGEMENT.
Interim Management Masterclass by Simon Berry & Working Free Ltd (Duration 135 minutes including break)
Upcoming disruption and sharper times call for heightened personal preparedness.  Director level Managers and Advisors with Interim Management knowhow have to be amongst the best of responses. Do NOT miss this online Masterclass!
OBJECTIVE:
To help you to win the type of work you want, when you want, at the rates you want.
YOU WILL LEARN:
How to crystallise your offer to grab attention

When and when not to use an elevator pitch

How to network effectively inc. Linkedin

How to sell without selling but keeping momentum

Performing confidently in 'sales' meetings
AGENDA
This highly practical Masterclass lasting 2 hours.
As we limit the size of groups, there will flexibility around how long we spend on each of the topics below and plenty of time for specific questions and concerns you may have. The key areas we cover are:
WHAT ARE YOU?
Whether we like it or not, people will pigeonhole us. The worst place to be put is the 'miscellaneous' pigeonhole because hardly anyone looks in it. The trick is for you to pick the pigeonhole that people put you in. How? Well that's what this part of the workshop is all about. We will help you define this and then use it as the basis of your LinkedIn profile. I promise you it will be more compelling than being a 'flexible, versatile, dynamic, inspiring, results-oriented change leader'!! And you won't feel like you're bragging!
THE IMPORTANCE OF PROOF
Now, we can put whatever we want in our profile, but will anyone believe us? Most of us are programmed to take everything people say with a pinch (or more) of salt, especially if we think they are trying to sell us something. What convinces people more than anything else is your track record. Stick to the facts, include real results you have achieved and go easy on the meaningless clichés. We'll use a template to turn your career into a series of compelling achievements.
WHO CARES?
It would be nice to think that everyone is waiting with baited breath to see what we do next, but we know that isn't true for most of us. The fact is that generally speaking, people only care and want to meet us when they believe we could help them. So who are these people and where are they? This session is all about targeting and segmentation, helping you get the best return on your marketing efforts. LinkedIn has some terrific tools to help you do just that.
IT'S NOT WHAT YOU KNOW………….
…it's who you know. We've asked hundreds of successful people to define their no.1 driver of success and 99% of them say ………NETWORKING. But what is networking and how do you do it? For those of you who wince at the thought of it, you may find this session somewhat reassuring. Using LinkedIn, we will help you not only build your network but use it to your advantage.
GRABBING ATTENTION
Most of the time people are looking for an excuse not to meet you. They're busy and are miserly with their time. They need to know that a meeting with you will be a worthwhile use of their time and that boils down to whether they believe you can help them fix an issue they face. We'll use a template here that will help you grab attention over and over again.
PREPARE TO SUCCEED
We've all conducted thousands of meetings throughout our working lives. The trouble is, we may lapse into 'unconscious incompetence' (no offence) and be 'winging it' more than is healthy. In this session we will be looking at how to prepare to make the most of each and every meeting. One delegate emailed to say the tool we used in this session had been instrumental in winning two consulting assignments within three weeks.
ABOUT SIMON BERRY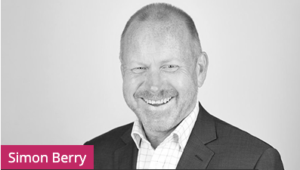 Simon has run his own consultancy Practice for over 22 years and, within that, has helped over 1,000 senior executives forge successful careers in Interim Management.
He has helped organisations build high-performance cultures and helped managers build high performance teams – citing, as one reference point – "I help individuals perform at their best and enjoy work.  I firmly believe that performing at our best goes hand in hand with enjoying ourselves. I do this by helping people gain clarity and focus on the few key things that really matter and ignoring the 'noise' of the rest."
His clients have included many well-known names whose published comments have included :-
"Achieving twice as much with half the effort! …………- A feeling of 'lightness', not so weighed down by the pressure of work……………   Heightened creativity generating innovative solutions to long-standing challenges.  …………. A real sense of purpose.  ………………….. Hugely reduced stress and a greater sense of ease.  ……………… A dramatically improved work/life balance."
ABOUT WORKING FREE

Working Free Ltd- www.WorkingFree.co.uk –  is a specialist career advisory business supporting senior Director-level executives coming off the permanent payroll into an independent working lifestyle. Working Free coaches them from dependency into independency – for their own future; for the enlightened reputation of their sponsoring organisations and – increasingly – for the benefit of the community. Reflecting the level at which we operate, these senior executives will be in their 50s but with many in their 40s.
Working Free has a broad range of modular Workshops all aimed at senior people looking to now operate on an independent basis.  We divide our services between Corporates through our Pathfinder Programme and Individuals through the same material but with more bespoke admin arrangements. Webinar delivery is becoming more popular now and we are all geared up for that.  All our Programmes are designed to fit in with the Working Free website.  Our preference is to deliver everything face to face – seeing the personal interactions as part of the leaning and networking process – but we are happy to configure to suit, particularly through our Threshold Webinar and Workshops Programme
ABOUT DEVONSHIRE HOUSE

Established about forty years ago, Devonshire House – www.DevonshireHouseNetwork.co.uk – is a people-focused membership club for Director-level professionals in leadership roles who have an instinctive focus on the human side of Enterprise.  Their aim is to create for their members thinking time and space for key business issues, and where people make the difference.  Devonshire House runs about ten main Events each year – a mix of formal dinners, buffets, Directors Forums, Panel Debates, Panel Discussions – and some other specialist one-offs.
At Devonshire House, the Events we promote always aim to reflect the best of current management thinking and – at our best – at issues that need a good airing – some serious exposure – and some animated debate!  All of this collaboration gets us closer to some fascinating organisations and people………………… such as Working Free.