06 October 2020
4.00 pm – 6.00 pm
Innovation Brainstorming Event – Innovation in Stormy Times
Faced with restoring life and viability to your business, do you really know what to do next? 
Stormy Times
You should not try solutions until you fully understand the whole challenge; and when you do understand it, you might identify fresh ideas to solve it.  Most of us are facing these issues for the first time. There is no precedent.
An Innovation Master Class from WorkingFree

by Paul Sloane & Working Free Ltd (Duration 2 hours including break)
The Working Free Proposition
Limited to 20 delegates, Paul Sloane leads an Online interactive Innovation Brainstorming MasterClass. This will last 2 hours (including a ten minute break) and includes 4 Breakout Zoom Rooms of 5 Members each – with a different theme allocated to each of the 4 Groups. This is a learning, sharing and thinking exercise, collaborating with the other delegates in a virtual peer group.
How do you think your way through a crisis the like of which you never seen before? You might have only one chance to get it right. This is a Working Free's offering.
Who should attend
Leaders facing major challenges – in their own businesses or those they advise.
You might find it helpful to read this  – workingfree.co.uk/our-clients/
Benefits for Delegates
This is what we offer to Delegates at this Innovation Brainstorming Master Class:-
Great new ideas for your business
New advanced brainstorming tools that you can use with your team to generate terrific proposals.
A copy of the Zoom MasterClass Recording. (Not the Breakout Rooms) will be made available post-event. Working Free requests Privacy clearance ahead of the Event.
A free enrolment on the online course – Advanced Brainstorm Techniques – normal price £69.
The optional opportunity to join the private Innovation LinkedIn Group. This Group, supported by Working Free, will allow delegates mutual connections and personal networking opportunities.
NOTE:  We ask for Confidentiality as between Delegates, including assurances from Working Free. The Event will be recorded for the benefit of Delegates and with no attributed names. The aim is that Delates should continue to benefit from the experience post Event.  
This is the Programme:
Introduction from Paul Sloane 20 mins
Breakout Rooms 15 mins
Theme 1 Report Back 10 mins
Theme 2 Report Back 10 mins
Break 10 mins
Theme 3 Report Back 10 mins
Theme 4 Report Back 10 mins
General Discussion 20 mins
Summing Up – Paul Sloane 15 mins
TOTAL 120 mins
The overall intention is to create and record for the benefit of Delegates a high level of original thinking and fresh ideas – not forgetting that the basis of any successful business is doing the right things at the right time – and doing them well.
About the Working Free Innovation Masterclass Series
The overall objective of the Working Free Innovation Masterclass Series is to take you further into the principles, techniques and processes that will overlay the way you manage your business or advise others how best to run theirs.
These are the key components:-
Building a Culture of Creativity and Enterprise.
Recap on Leadership Precepts.
Give Everyone two jobs.
Overcoming complacency and aversion to risk.
Overcoming Silos
Learning from Failure
Praising success
The Motto of the Innovative Leader
Generating Ideas
Analyse the Problem
Asking the right questions
Allow line manager bypass
Brainstorms – idea generation
Brainstorms – idea selection
The 8 key stages to Lead Innovation
Innovation teams
Summary and Key Tips
About Paul Sloane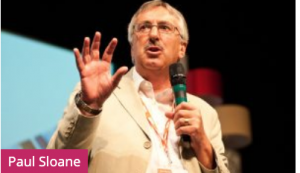 Paul Sloane gained a first class degree in Engineering from Cambridge University. He came top of Sales School at IBM. He went on to become a Marketing Director, Managing Director and CEO of software companies. He has written over 20 books which have sold over 2 million copies in total. His most popular book is Lateral Thinking Puzzlers which has sold over 300,000 copies and been translated into many languages. His top business book is The Leader's Guide to Lateral Thinking Skills. He runs leadership master classes on lateral thinking and innovation with top corporations around the world. He has been a visiting lecturer at Cambridge University, Lancaster University, Henley Business School and the Mumbai Institute of Technology. His Tedx talk is available on Youtube. It is entitled 'Are your Open-Minded?' You can contact Paul Sloane at paul.sloane@WorkingFree.co.uk
About Working Free

Working Free Ltd- www.WorkingFree.co.uk –  is a specialist career advisory business supporting senior Director-level executives coming off the permanent payroll into an independent working lifestyle. Working Free coaches them from dependency into independency – for their own future; for the enlightened reputation of their sponsoring organisations and – increasingly – for the benefit of the community. Reflecting the level at which we operate, these senior executives will be in their 50s but with many in their 40s.
Working Free has a broad range of modular Workshops all aimed at senior people looking to now operate on an independent basis.  We divide our services between Corporates through our Pathfinder Programme and Individuals through the same material but with more bespoke admin arrangements. Webinar delivery is becoming more popular now and we are all geared up for that.  All our Programmes are designed to fit in with the Working Free website.  Our preference is to deliver everything face to face – seeing the personal interactions as part of the leaning and networking process – but we are happy to configure to suit, particularly through our Threshold Webinar and Workshops Programme
About Devonshire House


Established about forty years ago, Devonshire House – www.DevonshireHouseNetwork.co.uk – is a people-focused membership club for Director-level professionals in leadership roles who have an instinctive focus on the human side of Enterprise.  Their aim is to create for their members thinking time and space for key business issues, and where people make the difference.  Devonshire House runs about ten main Events each year – a mix of formal dinners, buffets, Directors Forums, Panel Debates, Panel Discussions – and some other specialist one-offs.
At Devonshire House, the Events we promote always aim to reflect the best of current management thinking and – at our best – at issues that need a good airing – some serious exposure – and some animated debate!  All of this collaboration gets us closer to some fascinating organisations and people………………… such as Working Free.
Tags:
Innovation
past