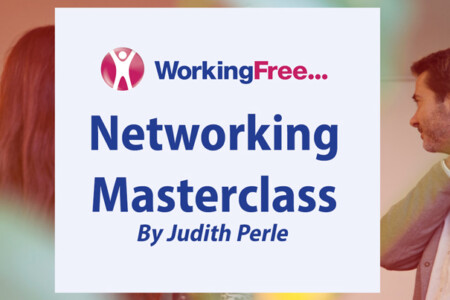 30 July 2020
12.30 pm – 2.00 pm
Working

Free

Online Masterclass
The Network Advantage – Harnessing the power of your professional network
Book Your Place
The Network Advantage – Harnessing the power of your professional network
A Masterclass for Extraordinary Times
In these extraordinary and challenging times, carrying on as usual just isn't an option. But that doesn't mean that all the ordinary rules should be thrown out of the window. Our professional network is still a crucial asset, and we need to find ways of adapting, and of continuing to build relationships with a view to mutual benefit. We also need to look ahead to what the 'new normal' might look like.
Our goals in this 90 minute masterclass are threefold:
Firstly, networking remains a key door opener to new possibilities and new opportunities, both personal and professional. So we'll explore why building an active and supportive network is absolutely crucial to professional (and personal) success.
Secondly, we'll look at how networks really work. If you understand some key concepts, you'll be able to capitalise on your communication skills so that you don't waste opportunities or, worse still, don't even recognise them.
And lastly, we'll explore some of the practicalities of building and maintaining relationships online.
By the end of the session, participants should feel better able to weather this crisis and emerge well-positioned when life returns to something approaching normal.
Judith Perle became involved in management training after completing the Sloan Fellowship at London Business School. At LBS she realised that although many of us pride ourselves on having the hard skills to get the job done, these technical skills often only 'get you through the door'. Success often depends on the 'softer' interpersonal skills that are all too often overlooked or under-valued.
After leaving LBS, Judith co-founded Management Advantage, a specialist training consultancy. Judith brings to her training work experience in business communication gained over a career in publishing, branding and new business development.
Judith also co-authored The Network Effect (with Tony Newton). Written as an extension of their workshops and masterclasses, the book walks the reader through everything they should know about connecting with other people. The book's goal is to get away from the manipulative 'working a room' concept of networking. Instead, the authors use the results of research into human interactions coupled with real case studies to justify the hints, tips and suggestions they propose. The book's strap-line says it all. It really is a guide to making – and keeping – the connections that make your, our and everyone else's world go round.
"Full of encouragement, this is the book you need to make it happen for you."
John Stopford, Professor of International Business, London Business School
ABOUT WORKING FREE

Working Free Ltd- www.WorkingFree.co.uk –  is a specialist career advisory business supporting senior Director-level executives coming off the permanent payroll into an independent working lifestyle. Working Free coaches them from dependency into independency – for their own future; for the enlightened reputation of their sponsoring organisations and – increasingly – for the benefit of the community. Reflecting the level at which we operate, these senior executives will be in their 50s but with many in their 40s.
Working Free has a broad range of modular Workshops all aimed at senior people looking to now operate on an independent basis.  We divide our services between Corporates through our Pathfinder Programme and Individuals through the same material but with more bespoke admin arrangements. Webinar delivery is becoming more popular now and we are all geared up for that.  All our Programmes are designed to fit in with the Working Free website.  Our preference is to deliver everything face to face – seeing the personal interactions as part of the leaning and networking process – but we are happy to configure to suit, particularly through our Threshold Webinar and Workshops Programme
ABOUT DEVONSHIRE HOUSE

Established about forty years ago, Devonshire House – www.DevonshireHouseNetwork.co.uk – is a people-focused membership club for Director-level professionals in leadership roles who have an instinctive focus on the human side of Enterprise.  Their aim is to create for their members thinking time and space for key business issues, and where people make the difference.  Devonshire House runs about ten main Events each year – a mix of formal dinners, buffets, Directors Forums, Panel Debates, Panel Discussions – and some other specialist one-offs.
At Devonshire House, the Events we promote always aim to reflect the best of current management thinking and – at our best – at issues that need a good airing – some serious exposure – and some animated debate!  All of this collaboration gets us closer to some fascinating organisations and people………………… such as Working Free.